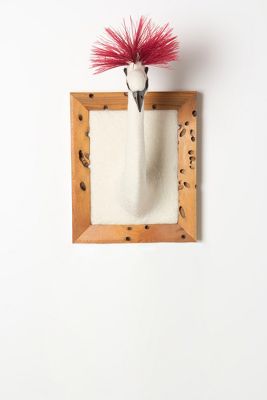 ANTHROPOLIGIE
: $1,500
Before I ever saw these amazing creations, from
Zoe Williams
, I made my own modern version of a taxidermy piece. I created the look with my recycled aluminum antelope head and used an ornate frame to represent the mount.
My taxidermy creation (See Below)
$43.00!
at an antique store that I frequent for...
$23.00!!!
I popped out the mirror and knew I wanted to paint the frame...
I spent a couple bucs on spray paint when I realized later that it needed to be painted the same color as the mantle below. The spray paint was a little bit "creamier" then I would have liked and using the semi-gloss mantle paint looked perfect and didn't take away from the traditional mantle where it is hung at the Richmond Designer House.
This was the plan for the accent wall, fireplace wall, at the Designer House.
I was going to redo the original tiles with these stainless steel tiles. I am so glad I didn't! The Kartell Ghost Chairs that are placed in front of the fireplace are a perfect way to show off the traditional tiles with a modern twist!

I can't reveal the Designer House room just yet!
There are a couple more weeks of tours and we would love to have you stop by.
We are having a blast!

Have a good one!

Melis