Last week I did an "Anthro Compare" post with some of my knit dresses. Since we were going out for Johnna's birthday that night I said that I would post some pics of our outfits we wore... I knew Johnna's would be super cheap too!

I wore this ridiculously inexpensive shirt turned dress. It cost $4.50! I bought this "shirt" in an extra large so I could throw a belt around it and create an adorable summer knit dress. I got the belt from a thrift store for a buc and wore my $10 gold gladiators and $2 earrings.
Total: $17.50



Note: That's pretty good compared to the Free People Tunic below...
Johnna ended up wearing a $10 Maxi Dress with her denim vest she found in the children's section of the thrift store!
As seen in the photo, she is explaining to me that she had cut off the sleeves and removed the insulation. The baby jean jacket turned badass denim vest costed her $3.00! Her thrift store belt was a buc, $3 earrings and sandals given to her by her sis.
Her total: $17



Note: As you can see below she definitely "nailed it!"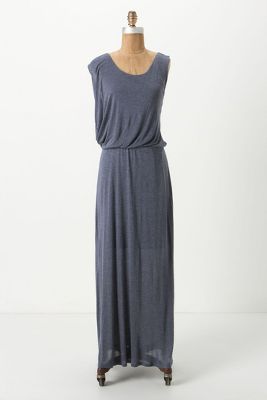 Anthropologie
Euphoric Maxi Dress: $148

Note: We purchased our items before the comparison. We didn't go out looking for these pieces.
Having some vino before the Neko Case concert...
Chatting...
and "cheersing!"
Happy Birthday, Johnna!
Thanks for taking pics, Dan... you're the best!



Also, I wanted to say "Happy Sheets Week" to our beautiful friends, Dan and Johnna!
Husband and wife, Dan and Johnna have birthdays that are exactly 1 week apart. 3 years ago we started "Sheets Week" and have had a blast celebrating with themed parties, a beach getaway and an upcoming "dive bar crawl."

We love you guys!
Melis