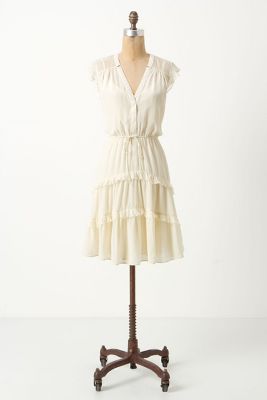 ANTHROPOLOGIE
Arched Careena Dress: $158

NOTE: Anthropologie, Free People and Urban Outfitters are all owned by Urban Outfitters, Inc. Below I will be comparing dresses from each of these branches.
I LOVE THEM ALL!!!
My consignment dress
Rumors: $11
I ended up getting this shirt, I got it in an XL to wear as a tunic dress, for

$4.50 after using Rue bucs at Rue 21

!
This store is kinda young but so cheap... you definitely have to search. I find that adding my own accessories makes the pieces look more sophisticated.
My baby doll


Forever 21: $24
And of course... Accessories!


Thrift store belt : $1.00
Woven purse


Thrift Store: $3.50
I love mixing different shades of gold.
Bangles, earrings and watch: Gabs, RUE 21 and Target

Another woven purse


Thrift Store: $2.00
Really diggin my new gold watch.
Gold Gladiator Sandals


RUE 21: 2 pairs for $20... so I got them in silver too!
Excited to go out for Johnna's B-day tonight!
The girls will be heading out for drinks and then to The National for the Neko Case show!
Not sure what shoes to wear with my tunic dress... gladiators or my "go to" nude heels?
Note: I'll post pics of us in our outfits because knowing Johnna her get-up will probably be a whopping $5 bucs too! : )
Check out: Melis & Johnna's Get-ups... on the cheap!
Hmmmm?
Other lace dresses in the collection... perfect for any season and great for layering.
My sweet collection of lace and knits... how I love thee.
Doak confused as to why my clothes are all over the yard.
My little photo shoots are getting a lot harder with a super active 1 yr old... needless to say this one took about 15 minutes before the babe took over! Haha.

Have a good one!

Melis